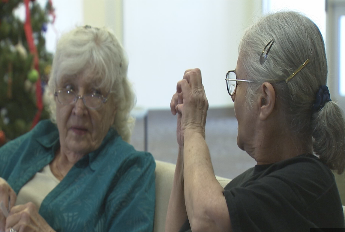 TEMPE, AZ - Apache ASL Trails residents worry feds will evict them. It's a one of kind award winning Valley community making a big difference in the lives of the disabled.
But now, some residents of the
Apache ASL Trails
senior living complex in
Tempe, Arizona
are worried that the
federal government
will soon ask them to move out.
The U.S. Department of Housing and Urban Development
claims that Apache ASL Trails is violating the Fair Housing Act by having too many
Deaf
people in the same complex.
The complex is accused of
discriminating
against other
disabled
and non-disabled people by not giving them an equal shot to live there.
The unique 75-unit facility which opened last year has received national recognition as one of the country's best special-needs housing projects. Each room is specially designed to help
Deaf
residents. Strobe lights and visual cues are built in everywhere, including door bells and fire alarms.
Property Manager Linda Russell told
CBS5
that they don't discriminate against anyone, but now, a number of residents are worried the federal government will force them to move out. Read more:
http://www.kpho.com/story/20320760/valley-deaf-residents-worry-feds-will-evict-them